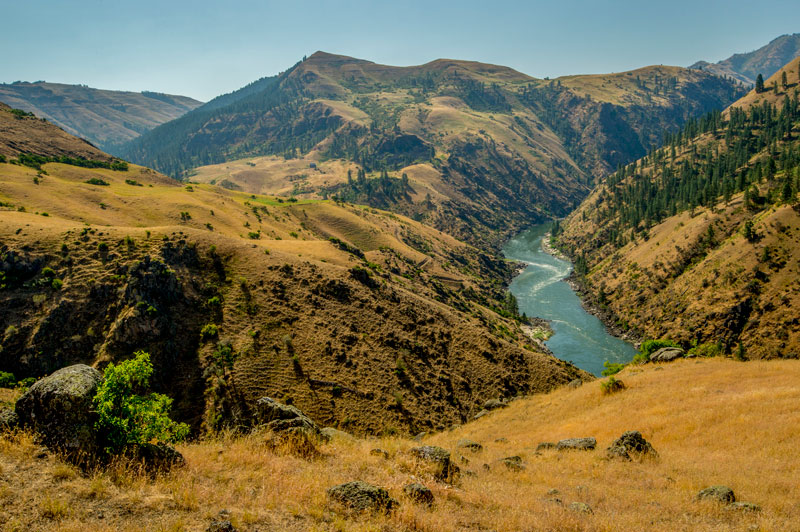 White Bird
At the base of White Bird grade off U.S. Highway 95 lies the town of White Bird–established in 1891 and steeped in history.
Travelers are provided a glimpse into frontier history with a visit to the White Bird Battlefield just outside of town. A significant battle site in the Nez Perce War of 1877 between Nez Perce Indians and U.S. Army soldiers and volunteers was fought east of town.
White Bird is also a jumping off point for anyone with an interest in hunting or fishing. Hunters enjoy opportunities provided by local deer and elk herds, while fishermen can test their skill and luck in the local tributaries.
White Bird is Idaho's shortest entryway by vehicle to the breathtaking Hell's Canyon on the Snake River–America's deepest gorge.
The communities main event is the annual White Bird Days and Rodeo celebration which takes place Father's Day weekend in June. Activities include a parade, games and a two-day rodeo.
Other events in and around the community include the annual "Salmon River Jet Boat Races", which happen south near Riggins in April, and the "Just For The Hill Of It", bike challenge, which runs in June from Hammer Creek Campground and up the old White Bird Grade.
Riggins
Whether for a weekend getaway or staging point for outdoor excursions, Riggins provides the amenities and atmosphere to benefit any fall and winter recreation opportunity.
Nestled in the Salmon River Canyon, halfway between Grangeville and New Meadows, Riggins is a base for river runners (whitewater, float, jet boat) and hunting outfitters and guides, and provides ready access for four-wheeling, snowmobiling, hiking, camping, mountain biking and horse excursions. Salmon and steelhead fishing are an economic mainstay for the region which draws thousands of visitors every year to the famous "River of No Return."
Visitor's have several options for lodging (motels, RV campgounds, B&B's and cottages), shopping and dining. Basic services of gas, groceries and sporting goods supplies are also available locally.
Residents enjoy a temperate climate, and a small town atmosphere with ready access to good services including education, medical clinic, city library and a selection of churches. Local events are held year-round including a rodeo, classic car celebration adn holiday bazaars.
Courtesy of Idaho County Free Press